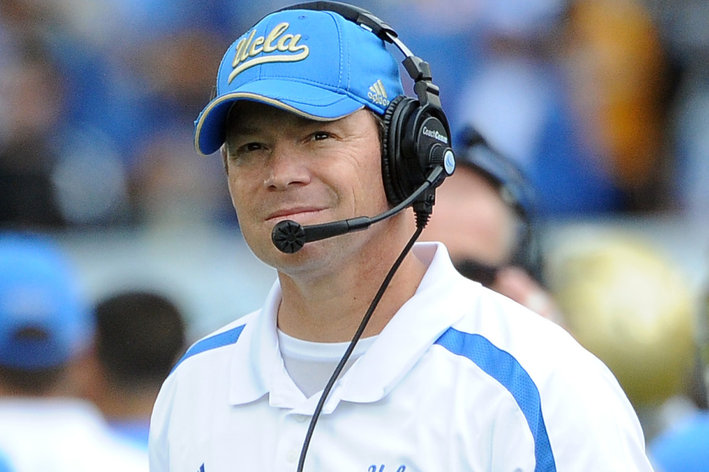 Listen to the podcast or read the article below!
I'm now entering my 9th year doing this professionally.  I have had 7 of 8 profitable years with an average 47.55% return on investment per season.  Last year we earned clients a 34.21% return on investment over the 5 months that is the college football season.  Simply download a copy of my return on investment tool to predict your profit by visiting
$1199 for the season!  Listen to the podcast to find out how you can get a major discount! 
#5 Jim Mora – UCLA
Another great recruiter, but another bad coach.  Many could argue it's because of injuries, but you can't simply give that excuse every year.  UCLA ranks 13th in 5 year average recruiting rating but the results simply aren't there and have been declining.  His first 3 years he talied 29 wins, but the last 2 he had just 12 including a 4-8 season in 2016.
Jim Mora opens with Texas A&M a crucial game in the hot seat scenario (stay tuned), the schedule is not easy and we will talk about it on our next podcast.  Mora has the best QB in the nation arguably in Josh Rosen and the results have to be there this year.  Will they be in a year they are not getting hyped up like in years past? They have 9 returning starters on offense and 6 on defense and the potential for a major rebound is probably, but will it be enough to keep Mora around?
#4 Kevin Sumlin – Texas AM
It's challenging to play in this division, but since Johnie Manziel left the Aggies it hasn't been that easy going despite being ranked in the top 4 at times last season. His early success could lead to his demise as the Aggie fans are expecting big things every year, however, the last 3 years they haven't finished in the top 20.
They play in the most competitive conference in the nation. Sumlin is 21-19 in the SEC in his career and is only 26-21 vs. the power 5 conferences.  What's even worse is they have really played poorly down the stretch when it matters most.  Going 5-12 the last 3 seasons over the last 4 weeks of the season.
They have 12 returning starters, they lose Trevor Knight at QB still hold WR Christian Kirk, but also lost the top defensive player in the nation in Myles Garret.  They have a huge game against UCLA to open the season.. My guess the loser of that game will not be the head coach of their respective team in 2017.. Sorry to be harsh.
#3 Butch Jones – Tennessee
he has done a masterful job recruiting the last few years, but still has not been able to win the SEC East over Florida.  He's off back to back 9-4 years, but it's simply not enough.  Over his 4 year career he's just 18-21 against power 5 opponents and 0-8 vs. SEC West opponents.
The guy barely has a winning record against the SEC East at 14-10.  This has all happened with the most talented team in the SEC East.  Unfortunately Georgia and Florida have caught up in talent in my opinion after Tennessee loses their star QB in Joshua Dobbs and RB Alvin Kamara to the NFL.. Still they have 14 returning starters.. The schedule though is going to be tough stay tuned to my strength of schedule podcast tomorrow.
#2 Bret Bielema – Arkansas
Okay this is where Hugh Freeze was going to sit, but he resigned this past week so we don't go there.  Bielema one of my favorite coaches for his style of play.  Arkansas cost me twice on my play of days which went 14-9 ATS last year.  They coughed up huge first half leads and that is a sign of poor poor coaching.  Those loses had me fuming.. Still 63% ATS career on max POD's simply visit freddywills.com for more result archives with time stamps and detail write ups.
Bielema though clearly on the hot seat. There is no explanation for a 10-22 record in SEC after 4 seasons. I don't care if you are in the SEC West.  Bobby Petrino, Houston Nut, Ken Hatfield and Lou Holtz all were much more success with over .500 records in conference play. Speaking of the SEC west he's gone 7-17.  3 of those wins came against Ole Miss and one in miracle fashion.
Anyway.. Bielama will be out for sure if they don't' get to a bowl game which is a strong possibility especially considering they return just 12 starters and their schedule is brutal with just 3 sec home games.  It could be bye bye Bielama after 2017!
#1 Brian Kelly – Notre Dame – probably one of my least favorite coaches.. After all in 8 college football seasons of professionally handicapping.. I had 1 losing season and it was the year I picked Notre Dame to cover 10 points against Alabama in the championship game.  It is also my only loss ATS in a conference championship game as I have gone 7-1!  My personal vendetta against Brian Kelly has nothing to do with how he got to #1 on my hot seat list.
Kelly is coaching one of the easiest places in the nation to recruit star players and he some how has screwed it up.  Things tarted well, but another bad season following 4-8 could lead to him being fired.  Kelly is also handling the team like a desperate man.  He has hired in total 17  new staff members including a new offensive , defensive and special teams coordinator along with a strength coach.  Wow!  Who wants to work for this guy?
I personally can't stand his antics on the sideline, but that's just me.. He needs 9 wins this year or he's out..
There is good news with 15 returning starters including 8 on offense.  Although a new QB takes over with no Deshon Kizer (NFL) or Malike Zaire (transfer to Florida).  I am confident under Chip Long (Memphis OC) last year they will be better.  It will all come down to whether or not this team could get a fast start.. The schedule will play a critical factor in what happens with this team especially in week #2.  Despite Kelly being my #1 target on the hot list I do think he will stick around with the coaching changes he made (Chip Long OC), and DC Mike Elko Wake Forest. – 3 straight op 40 d's at Wake Forest despite 0 4 or 5 star recruits. Notre Dame's defense was banged up last year and although they return just 5 starters the talent level is always there.