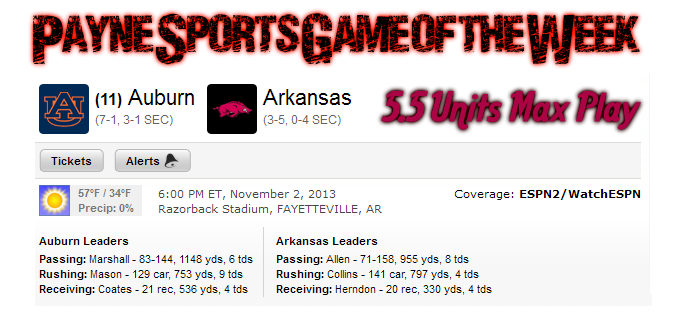 This weekend we are doing something rare and that involves releasing our 5.5 NCAAF play for free. We are 9-4 ytd on college 5.5 plays and 7-2 on NFL 5.5 plays and over our career have hit at a 65% mark. We are past the halfway mark and the lines are getting sharper and sharper and you have come to the right place to get the hard work to pay off. Today we focus in on the conference we have been born and raised in and we love this game. Auburn travels to Arkansas in a game where they are beat up and have a trio of games where the deck gets more stacked against them. Auburn has had a great season and I thought they would finish 8-4 this year and Gus has done a extraordinaire job thus far, but this back end of the schedule is absolutely brutal and I believe they lose three out of four and it starts here. Marshall should be good to go, but I do not think he will be close to 100%. This is Auburn only third road game of the season and the luxury Finish Reading this Post...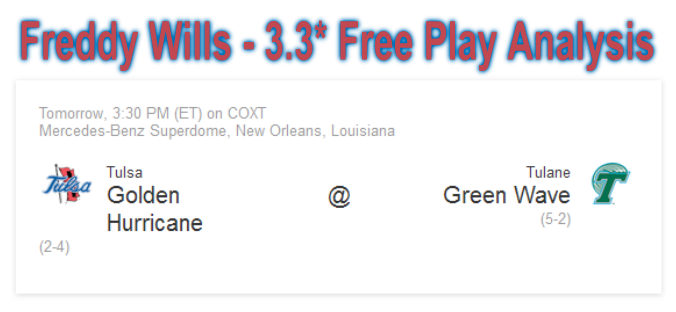 We have been on fire in college football with 5 of 6 winning weeks as we have also gone undefeated during the week the last three weeks. We look to continue our Saturday success this week as well as we role into week #9. Take Tulsa -2.5 3.3* FREE PLAY I'll take my chances with Tulsa this week who have an extra week to prepare for a must win game. Tulsa has been the conference's biggest disapointment while Tulane has been the biggest surprise. What does that mean? Well we have a 2-4 team favored on the road against a 5-2 team. Tulane offense has struggled big time so this is a nice match up for Tulsa and a very winnable game. Tulane is 109th in total yards and 115th in yards per play. Tulsa will attack an offensive line that's already allowed 22 sacks. Tulsa's pass rush is ranked 39th and they should get good push with linebacker Shawn Jackson and ends Alexander and Todd. So why is Tulane favored? That's a great question part of it is that vegas knows the public will bet an under Finish Reading this Post...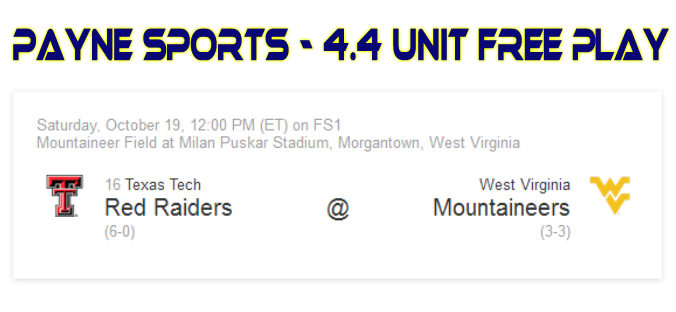 Payne Sports has been on a roll all season profiting every weekend overall in football and head into this weekend off a 6-0 ATS week last week. Already off to a fast start after nailing Lafayette on Tuesday to make it seven straight heading toward the weekend. Do not forget to check out NFL as we are currently number 2 overall at CappersMonitorsPicks and are 6-0-1 on our NFL 5.5 plays this year. Lets get to our free 4.4 unit early morning shocker going at high noon on Saturday. Last week our 4.95 ATS EARLY MORNING SHOCKER was Missouri as they took Georgia in Athens down outright and this week we are taking West Virginia +6 over Texas Tech Red Raiders. Texas Tech comes in boasting a 6-0 record and one of the surprises of this football season at number 15 in the rankings. The are number six in total offense at almost 550 yards a game and number three in their passing attack at over 400 yards a game. If we look at this closer at this game, Tech has only faced one defense in their six wins Finish Reading this Post...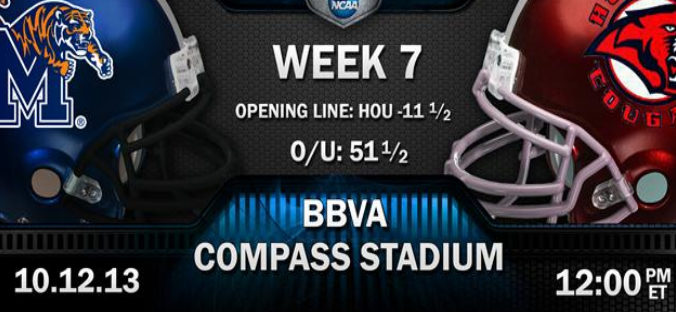 We have been on a role in college football making up for our very slow start and we look to continue that success on Saturday as we look for our 5th winning week in college football. Special thanks to sbrforum.com for the image above as we look to break down the Houston and Memphis game as our free prediction. Take Memphis +10 -120 2.5* play Houston has been extremely lucky to start the season and everyone is automatically assuming this is the same Houston team that hung up 50+ points on a regular basis, but I'm still not convinced considering Houston largely benefited last game from turnovers against Texas San Antonio, and got lucky in Rice who lost their start offensive player early in that game. In both games they were -9 minutes in time of possession. Memphis meanwhile just comes off a game in which they hung with Central Florida leading 17-10 in the 4th quarter when they allowed 2 TD's in 9 seconds to go on and lose 24-17. Memphis defense held UCF to just 297 yards, but the 4 turnovers cost them. Memphis should be able to runt he ball and Finish Reading this Post...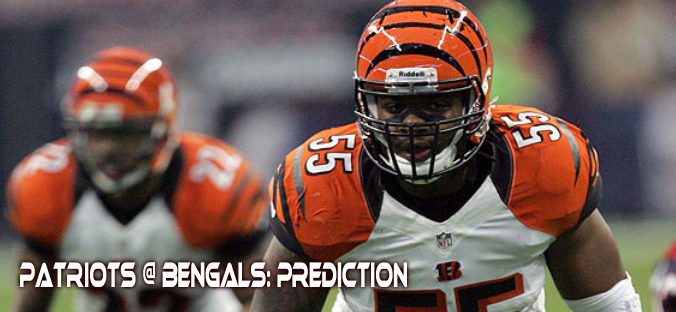 The Patriots come off a road win on Sunday night as an under dog against the Falcons while the Bengals come off a bad loss where they only put up 6 points against the Browns on the road. Bengals Backing: I'm backing the Bengals here as I did against the Packers at home. This Bengals team had 3 emotional games to start the season against the Bears where they could not hold onto their late lead, against the Steelers on Monday night and then coming from behind to beat the Packers. They were due for a clunker against the Browns who are much better than people give credit. The stock on the Bengals is very low right now, but they are a very good team and the best team the Patriots have played all year long. Patriots Luck: Patriots have actually been unlucky this year despite their 4-0 start which they could have easily lost 3 of those games. The point here is they have not played anyone yet as their 4 opponents have a combined 5 wins in 17 games played. Even the Falcons are 1-3 to start Finish Reading this Post...
2/21/18 Top Sports Picks
Overall Leaders
Expert
$ Profit
Freddy Wills$21,287,103
Payne Sports$92,997
2014-15 Season
Expert
$ Profit
Freddy Wills$4,152,407
Payne Sports$17,524
NCAAB L2 YEARS
Expert
$ Profit
Freddy Wills$1,364,101
Payne Sports$12,253
NFL Career
Expert
$ Profit
Freddy Wills$3,162,628
Payne Sports$18,541
NFL 2014-15
Expert
$ Profit
NBA 2015 Season
Expert
$ Profit
NBA/NCAAB L30 Days
Expert
$ Profit
Tweets by @FreddyWills
Freddy Wills Trends
Trend
Other Premium Picks
Free Picks