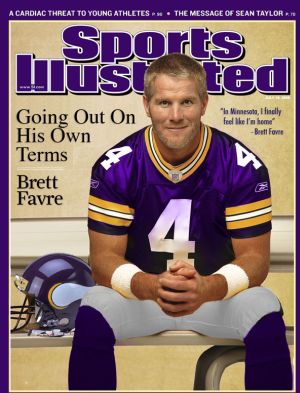 I think I was the only sad Jet fan to see Favre go last season. I have been the biggest Favre supporter through all of this and now that I hear he is probably making yet another come back I still can not blame the guy. A lot of people have asked me since yesterday if I am mad that Favre basically "pretended to retire" so he could get released by the Jets to go play for the Vikings and I have to say I can not blame him. Favre is a unique player who brings leadership qualities and a gutsy competitiveness that can not compare to any other player in the NFL. He took the Jets to 8-3 and back to back victories of the Titans and Patriots. That had the New York Media buzzing Super Bowl for the Jets. That is something that I can never remember happening as I am too young to witness Namath's great career and guarantee. Favre to me took this team where it has not been since Vinny Testaverde came to the Meadowlands. Even at 9-7 I was pleased with what Favre did for the team and I Finish Reading this Post...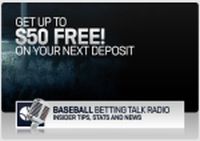 By Charles Jay The Los Angeles Dodgers (19-8 SU, 16-11 RL, 13-9-5 O/U) will try to extend their five-game winning streak in the BetUS Sportsbook when they battle the division rival Arizona Diamondbacks (11- 15 SU, 11-15 RL, 10-14-2 O/U) at Dodger Stadium tonight at 10 PM ET. Manny Ramirez went 2-for-3 with a home run and three RBI as the Dodgers spanked the Diamondbacks 7-2 on Monday night and help L.A. cash in for BetUS MLB sports betting backers as -145 home favorites while the final score played over the 8.5-run Over/Under total. Outfielder Andre Ethier went 2-for-4 and added a solo shot for the Dodgers. Tonight the Diamondbacks will give the ball to right-handed starter Max Scherzer (0-2, 3.48 ERA) as he goes for his first career victory. He struck out a season-high seven in six shutout innings against Milwaukee on Thursday, but didn't get much help in the team's 4-1 loss. The Dodgers will counter with veteran right-hander Jeff Weaver, who'll make his first start since the end of the 2007 season after spending all of 2008 in the minor leagues. The right-hander went 7-13 with a 6.20 ERA in 27 outings with Seattle Finish Reading this Post...

by Mike Rose MLB BETTING – NL $$$ Power Poll through 5/4 Manager Joe Torre's Dodgers remain atop the NL Power Poll this week (the last NL Power Poll) with a pair of NL Central clubs holding down the #2 and #3 slots. The following NL teams have paid out or pissed-off for sports bettors at BetUS Sportsbook through the first month of the season…. 1) Los Angeles Dodgers (18-8, +$932) (LW: 1) The Dodgers are now a perfect 10-0 at home after busting out the brooms with a four-game sweep of the Padres. There's seven more home games on the schedule this week, so will it keep up? If the pitching staff continues giving up just 2.25 runs per game like it did in the first four games of this home stand, the answer may be a resound yes. On Deck: vs. Diamondbacks, vs. Nationals, vs. Giants 2) St. Louis Cardinals (17-8, $768) (LW: 3) Manager Tony LaRussa's club did its job on a six-game roadie to the East Coast, taking four of the six games, including three of the four as short Finish Reading this Post...

A combination of sports insight and personal opinion · Game 6 of the Celtics/Bulls series tips off tonight at 7 PM. I'm expecting an extremely physical/testy brand of basketball from both teams… · Which begs the questions- What team would win in an all out brawl? To make this easier, I'm only using each team's starters. Remember Phoenix fans….nobody is allowed to leave the bench. o Perkins vs. Noah- If you read my Playoff Preview then you already know how I feel about Ms. Noah. Despite Noah's best efforts (which would include biting, scratching, ball grabbing, and questionable finger placement), Perkins would knock her out in mere seconds. o Big Baby vs. Thomas- Interesting matchup here. Thomas is freakishly athletic, while Big Baby resembles a 300 lbs. bowling ball. I'll take Big Baby, but he'll break down and cry (again), once Kevin Garnett scolds him for losing his temper. o Pierce vs. Salmons- Another tough matchup. Would Pierce actually succumb to physicality or would he Finish Reading this Post...

GET THE VEGAS SHEET NOW AND BUST YOUR BOOKIE CLICK HERE TO START WINNING AND STOP LOSING I gave away my picks for free for five days, everyone that signed up for free witnessed a system that was pushed to the limits and had a horrible weekend and STILL PROFITED 1.50 units. Then like I promised you would see the system at its best, and in just two days It went 7-3 profiting 7.00 units for a grand total of 8.50 units in five days. This system is the real thing and will win for you each and every single week. Try it out, if it loses any money for you the first time I will return your $50. CLICK HERE TO VIEW THE DOCUMENTED RECORDS AND ANY OTHER INFORMATION YOU NEED TO MAKE YOUR FIRST PURCHASE. OddsBuster "If Winning Isn't Everything, Then Why The Hell Do They Keep Score?" Look, I am not writing this so you read it and think of me as some business man who looks at all Finish Reading this Post...
2/17/18 Top Sports Picks
Overall Leaders
Expert
$ Profit
Freddy Wills$21,287,103
Payne Sports$92,997
2014-15 Season
Expert
$ Profit
Freddy Wills$4,152,407
Payne Sports$17,524
NCAAB L2 YEARS
Expert
$ Profit
Freddy Wills$1,364,101
Payne Sports$12,253
NFL Career
Expert
$ Profit
Freddy Wills$3,162,628
Payne Sports$18,541
NFL 2014-15
Expert
$ Profit
NBA 2015 Season
Expert
$ Profit
NBA/NCAAB L30 Days
Expert
$ Profit
Tweets by @FreddyWills
Freddy Wills Trends
Trend
Other Premium Picks
Free Picks