Big East: I have said from day one, I think Louisville cuts the nets down this year and still feel strongly. I will be taking some of them at +275. The long shot for this tourney would be WV at +1600. This team has a stingy d and if Ruoff finds his shot they could be dangerous, but they have to go through Louisville who they lost by a total of 10 points in both games this year. Huggy has his frosh playing like juniors, which could make an impact for them. Pac 10: I will be playing one team and it is Arizona at+1200. This team has a 3 headed monster in Buddinger, Hill, and Wise. This team is very dangerous and worth the shot at winning the Pac 10. I think they will make the tourney and a possible sweet 16/elite 8 team. Big 10: I will be making two wagers in this conference. Wisconsin at +600 is good odds and prolly the most dangerous team come tourney time with Bo Ryan. They are senior laden and know how to win. Finish Reading this Post...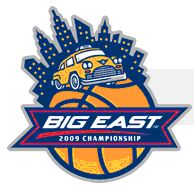 Big East Conference wrapped up action Saturday with Louisville taking the regular season title under the radar. Both Uconn and Pitt saw themselves as the number one team in the nation this season while Louisville quietly had the best record in the conference. This is simply the most exciting conference in the NCAA basketball. You will see the most teams in the tournament from this very conference and every year you get exciting play from the bubble teams in the Big East Conference. While Georgetown, Notre Dame, and Cininnati all in action tomorrow are likely out of the NCAA tournament they can play there way in with a Big East Conference title. Also on the line will be a bid to the NIT tournament. March 10th schedule: DePaul (8-23, 0-18 Big East) Cincinnati (18-13, 8-10 Big East) 2:00pm et start St. John's (15-16, 6-12 Big East) Georgetown (16-13, 7-11 Big East) 7:00pm et start: Rutgers (11-20, 2-16 Big East) Notre Dame (17-13, 8-10 Big East) 9:00pm et start S. Florida (9-21, 4-14 Big East) Seton Hall (16-14, 7-11 Big East) While I did not enjoy the best of luck in the Big East Conference overall I lost Finish Reading this Post...

Power rankingsBefore I even get into the rankings, I found a nice piece of software that's backed by a multi-million dollar infrastructure called Pay Per Head which will allow you to take wagers for friends and acquaintances. Pretty cool if you know some people that like to bet and are losers. Although they do have a weakness in stopping the run allowing 4.6 ypc, they have been great on the road allowing just 3.9 ypc. This team also shut down the #1 rushing attack holding the 49ers to 80 rushing yards. The defense is also opportunistic forcing 3 turnovers per game ranked 2nd in the league behind only the team we have listed as the second best in our power rankings. Even the leagues 2nd ranked team has a weakness and that's protecting the QB. The Bears are 31st in sack % as Jay Cutler is getting dropped 10.37% of his drop backs. Only the Arizona Cardinals are worse. Their defense seems to be the best in the league at creating turnovers which constantly change the momentum of a game as they lead the league with 3.3 takeaways per game. The 49ers are Finish Reading this Post...

Washington (7-5) vs. Boise State (10-2) (+5.5, 44.5) 100% BONUS @OddsmakerThis is our 10th ranked game in our Top 10 Bowl Games To Watch 2012-13 article. Of course it is not as sexy as previous match ups involving Boise State from previous years, but my bowl prediction is that this should still be one hell of a game.Things To Know… These two teams are both separated by just 500 miles, but they have only met once in the history of their football programs. However, this is a nice preview to the opener in 2013 as both teams will face off on August 31. Boise State is quite familiar with Vegas and Sam Boyd Stadium as they have defeated Pac-12 teams in this same bowl game over the last two years. Boise has won 10 games again this year and that marks the tenth time they have done that in the last 11 years, but this is not the typical Boise team getting tons of public credit. They lost the opener to Michigan State and a home game against San Diego State and we never heard a threat of them challenging for a BCS Finish Reading this Post...

Oklahoma State -4.5 1.1* FREE PLAYI faded Baylor big last week and I paid for it with a little bit of bad luck as Texas Tech had 4 turnovers that cost them the game. Now that Baylor is bowl eligible and they come in facing Oklahoma State at home I think we still get great value here. There will be no hang over for the Cowboys after losing to Oklahoma last week after they blew a double digit lead. This team has been strong under Mike Gundy, as they lost on a Friday night to Iowa State last year that cost them a shot at the National Championship, but they returned the next week to dominate a good Oklahoma team 44-10. Baylor may have a top 10 offense, but their defense is still as bad as they get, and now Baylor has to face arguably the best offense they have all year.Oklahoma State has a balanced approach that's not something the Baylor defense has really seen and that's bad news because between QB Clint Chelf, who also double as a runner with 5.84 ypc, and Joeseph Randle who is a next level talent they should be Finish Reading this Post...
12/17/17 Top Sports Picks
Overall Leaders
Expert
$ Profit
Freddy Wills$21,076,513
Payne Sports$92,997
2014-15 Season
Expert
$ Profit
Freddy Wills$4,152,407
Payne Sports$17,524
NCAAB L2 YEARS
Expert
$ Profit
Freddy Wills$1,364,101
Payne Sports$12,253
NFL Career
Expert
$ Profit
Freddy Wills$3,086,473
Payne Sports$18,541
NFL 2014-15
Expert
$ Profit
NBA 2015 Season
Expert
$ Profit
NBA/NCAAB L30 Days
Expert
$ Profit
Tweets by @FreddyWills
Freddy Wills Trends
Trend
Other Premium Picks
Free Picks