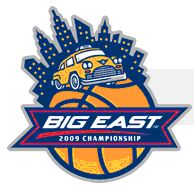 Big East Conference wrapped up action Saturday with Louisville taking the regular season title under the radar. Both Uconn and Pitt saw themselves as the number one team in the nation this season while Louisville quietly had the best record in the conference. This is simply the most exciting conference in the NCAA basketball. You will see the most teams in the tournament from this very conference and every year you get exciting play from the bubble teams in the Big East Conference. While Georgetown, Notre Dame, and Cininnati all in action tomorrow are likely out of the NCAA tournament they can play there way in with a Big East Conference title. Also on the line will be a bid to the NIT tournament.


March 10th schedule:



DePaul

(8-23, 0-18 Big East)

Cincinnati

(18-13, 8-10 Big East)

2:00pm et start

St. John's

(15-16, 6-12 Big East)

Georgetown

(16-13, 7-11 Big East)

7:00pm et start:

Rutgers

(11-20, 2-16 Big East)

Notre Dame

(17-13, 8-10 Big East)

9:00pm et start

S. Florida

(9-21, 4-14 Big East)

Seton Hall

(16-14, 7-11 Big East)

While I did not enjoy the best of luck in the Big East Conference overall I lost money! My biggest strength has been over coming and learning from mistakes. The Big East Conference is the hardest conference to cap in my opinion because it is the most over analyzed conference thus giving us the sharpest lines. I honestly won't have that many Big East games as I have had only 5 in the last month alone, but when I do make sure you hammer them, because they will be worth it.
12/17/17 Top Sports Picks
Overall Leaders
Expert
$ Profit
Freddy Wills$21,076,513
Payne Sports$92,997
2014-15 Season
Expert
$ Profit
Freddy Wills$4,152,407
Payne Sports$17,524
NCAAB L2 YEARS
Expert
$ Profit
Freddy Wills$1,364,101
Payne Sports$12,253
NFL Career
Expert
$ Profit
Freddy Wills$3,086,473
Payne Sports$18,541
NFL 2014-15
Expert
$ Profit
NBA 2015 Season
Expert
$ Profit
NBA/NCAAB L30 Days
Expert
$ Profit
Tweets by @FreddyWills
Freddy Wills Trends
Trend
Other Premium Picks
Free Picks