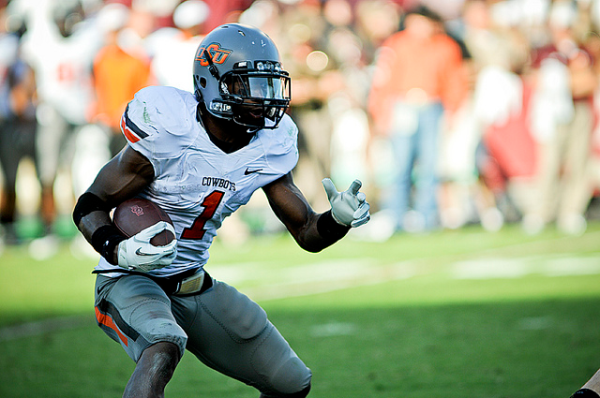 Oklahoma State -4.5 1.1* FREE PLAY
I faded Baylor big last week and I paid for it with a little bit of bad luck as Texas Tech had 4 turnovers that cost them the game. Now that Baylor is bowl eligible and they come in facing Oklahoma State at home I think we still get great value here. There will be no hang over for the Cowboys after losing to Oklahoma last week after they blew a double digit lead. This team has been strong under Mike Gundy, as they lost on a Friday night to Iowa State last year that cost them a shot at the National Championship, but they returned the next week to dominate a good Oklahoma team 44-10. Baylor may have a top 10 offense, but their defense is still as bad as they get, and now Baylor has to face arguably the best offense they have all year.

Oklahoma State has a balanced approach that's not something the Baylor defense has really seen and that's bad news because between QB Clint Chelf, who also double as a runner with 5.84 ypc, and Joeseph Randle who is a next level talent they should be able to run all over a Baylor front that's 96th in ypc. Thier pass defense is even worse ranking 119th in sack %, 109th in pass completion defense and 122nd in yards allowed. Oklahoma State is 7th in passing yards, but again they are difficult to defend because they run the ball 51% and pass the ball 49% of the time. Baylor has played teams that do either one and they have come up with turnovers. I just don't see them being able to do that against a balanced offense that's 3rd in scoring offense. Baylor is still allowing 57.4% conversions on third downs to conference opponents while Oklahoma State is at 35%. Oklahoma State also is good at stopping the run ranked 23rd. Baylor despite popular belief runs the ball a ton ranked 60th in rushing play % and has run it more of late 60% over their last 3 games. Oklahoma State only allowing 2.9 ypc over their last 3 games.
12/17/17 Top Sports Picks
Overall Leaders
Expert
$ Profit
Freddy Wills$21,076,513
Payne Sports$92,997
2014-15 Season
Expert
$ Profit
Freddy Wills$4,152,407
Payne Sports$17,524
NCAAB L2 YEARS
Expert
$ Profit
Freddy Wills$1,364,101
Payne Sports$12,253
NFL Career
Expert
$ Profit
Freddy Wills$3,086,473
Payne Sports$18,541
NFL 2014-15
Expert
$ Profit
NBA 2015 Season
Expert
$ Profit
NBA/NCAAB L30 Days
Expert
$ Profit
Tweets by @FreddyWills
Freddy Wills Trends
Trend
Other Premium Picks
Free Picks