This is premium content that clients pay for.   Freddy Wills releases all of his premium content to the general public just minutes after a game starts.  All plays are documented in this way to ensure you of Freddy's honesty and integrity. 
---
Freddy Wills's Comments
Freddy Wills's Pick
Jaguars +8.5 3.3% play
Statistics: Posted by Pick Bot – Sun Jan 21, 2018 4:07 pm – Replies 0 – Views 1080
---
---
Freddy's recommended  sports picks are also released on his records table at freddywills.com as pending picks as soon as the game starts.  It's another way we make sure the integrity of our handicappers is never questioned!  Why invest in Freddy Wills his honesty and integrity can not be questioned and the results don't lie.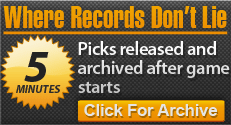 Here are some other key links in case you want to Become an Affilliate or gain access to vegas insider college football information.  We can also recommend top handicappers to follow based on the sports handicapper leaderboard and history of success in sports betting.  You can also pay attention to our free sports picks section of the site to get a feeling on how our handicappers give out their recommendations.