There are now 128 FBS teams and only 31 head coaches have been with that team for more than 5 years.  The head coaching carousel has taken on lots of changes over the last few years and some of big moves that can have a dramatic impact on your bankroll if you are not paying attention.  Not only do you have to keep a close eye on the head coaching moves, but also the assistant coaching moves.  I do this every season as part of my due diligence in selecting NCAAF picks.  You can read the article below or listen to my podcast where I break down the top 10 in no particular order!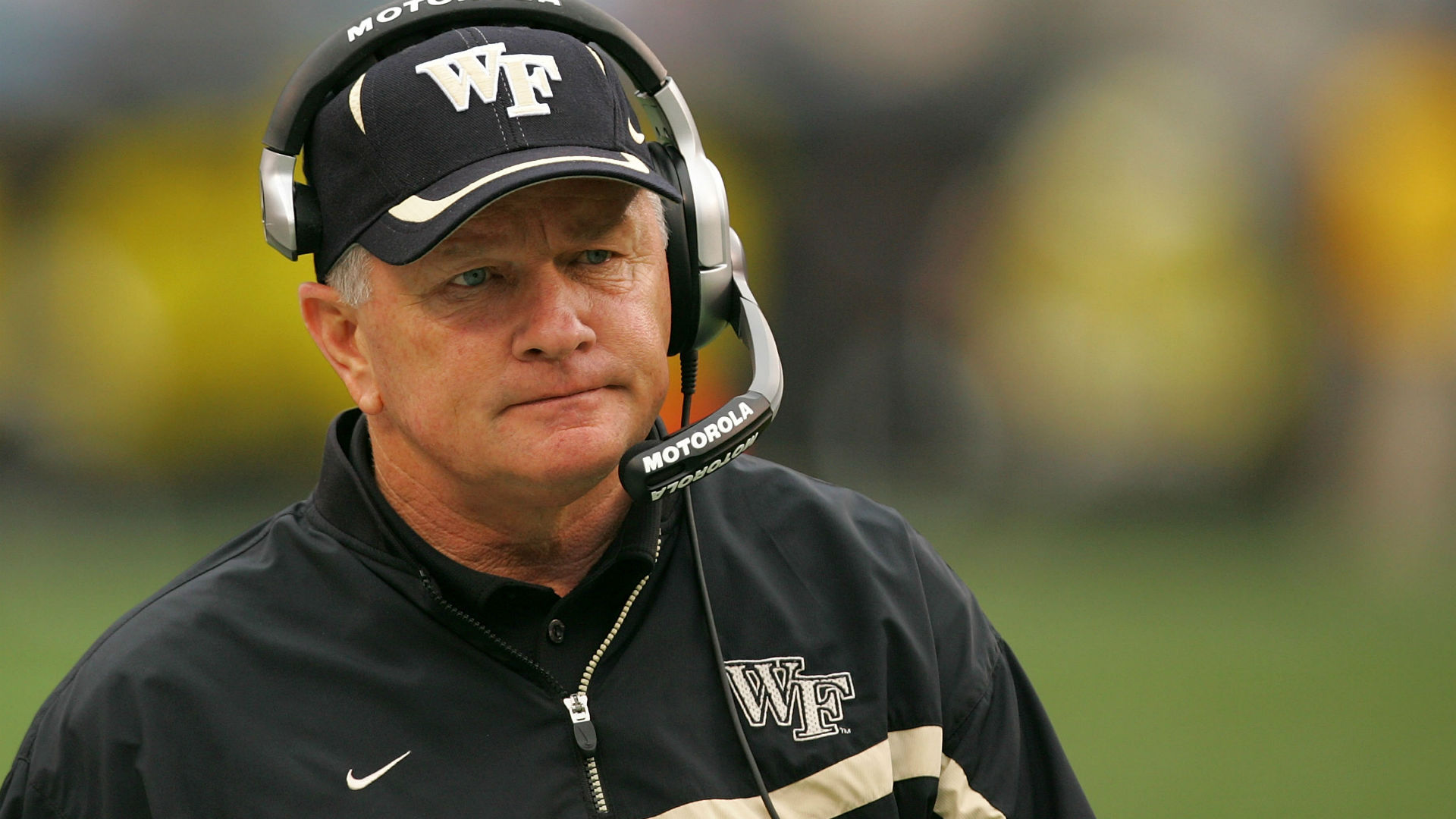 Jim Grobe – Baylor Bears.
This one is an interesting move and it seems more like a downgrade when you consider Grobe comes over from Wake Forest where he coached for 12 years.  Grobe had been out of coaching for a few years and this is considered an interim head coaching job for the Baylor Bears.  This all happened after Art Briles was fired, and athletic director Ian McCaw resigned after an investigator concluded that the two obstructed and misled investigations into allegations of sexual assault and dating violence against his players.  It's not quite Penn State esque, but you can see why Baylor wanted an interim coach while they search for the right candidate.
Grobe led Wake Forest to a 77-82 record, 42-62 record in conference play over 12 seasons where the Demon Deacons went 3-2 in bowl games.  I would not exactly call this a top move, but it's worth noting considering it's one of the elite programs in the country right now.  Grobe seems to be a puppet instead of a guy that wants to build something here and the interim tag confirms that assumption.  Grobe was in the media saying, "For me to come in and make changes without reason doesn't make any sense to me."  It's obvious he has no authority and Baylor has already had several recruits de-commit from the program.  Betting Take – I would back early and fade late.
Scott Frost – Central Florida
This is one of the more interesting moves of the off season.  Frost is only 41 so full of energy and the first time in a head coaching role.  He was Oregon's offensive coordinator/guru the last 3 seasons in which Oregon finished 2nd, 3rd, and 10th in yards per play and 3rd, 3rd and 6th in points per game.  He takes over a program that in recent memory was the best mid-major team upsetting Baylor in 2013 bowl game.  Last year they went 0-12 and fired their long time head coach George O'Leary.  This is a great move in my opinion that will help with recruiting and by year 3 this team will be back.
Frost did clean house a little bit when he got here which I always feel is a good thing for a program when they give their new head coach authority to name his own coaches.  Frost has brought on several coaches from the Chip Kelly coaching tree.  Erik Chinander will be the defensive coordinator, another young hungry guy in his 30's.  On offense he hires a Missouri State offensive coordinator as his QB coach, Greg Austin as the offensive line coach, and Troy Walters as the offensive coordinator.  All these guys are very green on experience and it will take a few years.  Betting –  Fade early and back late in the season.  Definitely stay tuned to my next podcast as I go over how to predict what teams will improve from last season and what teams are due to do worst based on luck.  As we go over some interesting facts from Phil Steele's magazine.  I feel if you stay on top of that you are due to do well predicting college football picks.
Kirby Smart – Georgia
For some Smart needs no introduction, but the first time head coach for a big program like Georgia may surprise some.  Smart however was Alabama's defensive coordinator for years and comes directly from the Nick Saban tree.  Smart spend 7 years as the Alabama defensive coordinator and in that time Alabama was 5th, 7th, 11th, 1st, 1st, 16th, 16th, and 1st in opponent yards per play and he did it in the best conference in the nation.
Smart makes several changes with assistants including Mel Tucker who was previously the Alabama DB coach and Chicago Bears defensive coordinator.  He also brings with him Jim Chaney who spend the last few years with Arkansas and Pittsburgh as offensive coordinators.  Betting:  To be determined.  This team lost a lot on defense and I really need to do some more research.  This was one of those teams that was a bit lucky last year with a lot of close wins so I feel they will be over valued early in the season especially with the hype of Kirby Smart.
Matt Campbell – Iowa State
Iowa State has a passionate fan base and now they have a new young coach in Campbell.  I definitely view this as a stepping stone for Campbell who is just 36 years old, but has already had success at Toledo out of the MAC Conference.  Over 4 seasons as their head coach he went 35-15 and 2-1 in bowl games.  Iowa State went 8-28 their last 3 seasons under Paul Rhoads and this is the exciting change this loyal fan base needed.  I do feel like it will be an uphill battle for Campbell and will probably take 3 years as he returns only 12 starters and has a very tough schedule in year 1.
Lovie Smith – Illinois
We have seen this many times in the past.  We take an NFL head coach with success and they have more success in the college ranks.  Lovie obviously has some serious ties to the state of Chicago from his time with the Chicago Bears.  He led the Bears to the Super Bowl and had perennial success that should help in recruiting (Illinois 13th in recruiting Last 5 years in Big 10).  Illinois has ranked 74th, 65th, and 61st in Bill Connoly's S&P rankings the last three years so there is nowhere to go but up.  Betting Take – Fade early depending on the early season hype of Lovie Smith. (Especially if they win big early)  It always takes a while for a new coach to come in and get things going.
Mark Richt – Miami Hurricanes
This has to be one of the biggest off season moves in recent years as all Mark Richt ever did at Georgia was win.  That's something the Miami Hurricanes have lacked.  I think Richt improves the recruiting right away and also brings a sense of confidence having coached in the SEC and now moving over to the ACC I can see Miami getting back to being a dominant team under Richt.  Richt is 145-51 overall in his coaching career and was 9-5 in bowl games and of course he is a Miami alumni having played QB in 79-82.  Richt inherits one of the nation's best QB's in Brad Kaaya.
Richt brings with him a great coaching staff including Manny Diaz who spent last year with Mississippi State ranked as the 35th defense last year in terms of yards per play and he did that in the SEC.  He also brings Thomas Brown who was the RB coach for him last year at Georgia and the year before at Wisconsin.  Those two teams produced the 27th ranked rushing game from ypc perspective and 1st from Wisconsin the year before.  Brown to me is the real deal and he's young and hungry to make a name for himself.  It's great, because he's not used to having the threat of a great QB like he does this year. Betting Take:  I won't bet on this team early there is obviously a lot of hype yearly with Miami that fades, but this offense should be fun to watch.
Barry Odom – Missouri 
Odom was the defensive coordinator at Missouri last year and was the Memphis coordinator 2012-2014.  Odom really deserves this shot when you consider he is an alumni and the defense was the only thing holding this team together last year.  Missouri was 3rd in yards per play allowed playing in the SEC.  This defense should be great again and the offense can only get better.  Betting Take:  This is a team to watch and back early.  Arguably the second best defense in the SEC and one of the best defensive lines in the country.  There is always value on betting a great defensive team as an under dog and I expect them to be under dogs a lot this season.
Will Muschamp – South Carolina
This is a serious rebuilding situation for South Carolina and Muschamp probably really does not deserve this after what he did at Florida for 4 years and the terrible job he did with the Auburn defense last year.  I list it on here, because it's a big name that's likely to get a lot of attention.  His head coaching record is 28-21 and he did that with a team that had elite recruits.  I'm sorry I just don't see him building this program up by year 3.  This team had some good moments down the stretch especially against Clemson, but I'll be watching to see what Muschamps' assistants do.
The defensive coordinator is super young and comes over from Florida and Auburn with Muschamp as his defensive back coach.  Travaris Robinson has a lot to prove. Then you have co-offensive coordinator's which really doesn't make sense you have a very inexperienced 32 year old Bryan McClendon and Kurt Roper who also has very little experience, but spent time with Muschamp at Florida.  This reminds me of an episode of one of my favorite shows The Office.  Where Jim Halpert and Michael Scott are named co-managers at Dunder Mfflin. I especially liked Oscar Martinez's take on it:
Bronco Mendenhall – Virginia
I really love this move for Virginia and I'm actually surprised Bronco left BYU where he had so much success going 93-43 including 6-5 record in Bowl Games.  The one thing you have to be excited about is the fact that Mendenhall has been consistent and they haven't always had the easiest schedules.  He inherits a yearly recruiting class that is almost always the top of the ACC and the nation.  I'm very interested to see what happens this season with Virginia and we will spend more time on them in the future.  Betting Take- I am going to really look hard at this team early in the season I think this was a massive upgrade at the head coaching position that can pay major dividends right away.
Justin Fuente – Virginia Tech
It was sad to see Frank Beamer retire, but it was definitely time.  Fuente was the guy that everyone was going crazy for coming over from Memphis.  Just look at what he did at Memphis and you'll understand why.  Fuente replaces a legend much like Will Muschamp, but I believe he is more capable to do well right away when you consider who he has as his assistants.  He made the smart choice to keep Bud Foster here as the defensive coordinator and brought in offensive coordinator Brand Cornelsen who will implement the spread offense.  Cornelsen was Memphis OC/QB coach and was responsible for the development of Paxton Lynch which led a 30th ranked offensive attack a year ago.  Bud Foster obviously needs no introduction.  Betting Take:  This team may have some value early.
Make sure you check out all of my podcasts you can do so by subscribing on itunes or your podcast app by searching "RISE TO THE TOP" or "COLLEGE FOOTBALL BETTING" or just visit us at freddywills.com