Looking for your own handicapping website? We can build it for you!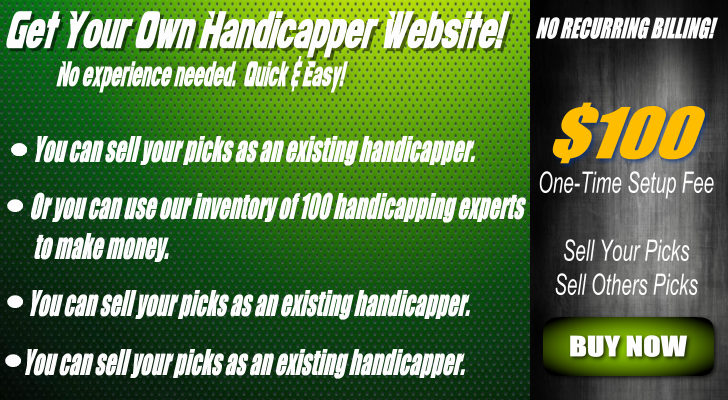 Do You Have What It Takes to Be A Handicapper for SportsCapping.com?
A lot of handicappers want to join the other top professionals on SportsCapping.com.
If this includes you then these are the questions we need answered.  First you can apply here.  Or visit some of our resources, but before you do any of that I would request you ask yourself a few questions.  If you don't have what it takes to be a handicapper.  No worries you can still.
1.  Do you already sell your picks?
If yes then send us the list of sites you are selling on by using our Contact Form or simply apply here.
We will look at the prices and format of your subscriptions and packages to see if they are in line with ours.
There are a few sites that we don't want to associate ourselves with. If you are on one of those sites you will be ineligible to post on ours.
If you don't sell anywhere else that is alright too. It just takes a little more work to show you know what you are doing.
2.  Do you have samples of the analysis you provide with your picks?
We are only interested in professional handicappers, and professionals provide analysis with their work.  The customer needs to feel comfortable knowing why you made your pick.
We know that we have handicappers on our site that do not provide analysis.  They were grandfathered in.  Just because they are on the site does not mean we are going to allow anyone else who does not post analysis.
Proper spelling and grammar is a must for all packages and analysis. Why is this so important?
If you are smart enough to beat the odds you need to be smart enough to out write a 3rd grader.
3.  Are your picks documented?
If you answer yes then we need links to the sites you have used.  This can be a respected forum or monitor, but we need to see the documentation.
Here are a few examples of documenting those won't work.
Handicapping for your buddies who will swear you hit 90% in the NFL last season.
Showing your results from a site we have never heard of.
Sending us a spreadsheet with your winning picks.
We only accept sports handicappers that have proven themselves. Those who win consistently over the course of many seasons.
If you answer no that doesn't mean we are not interested.  You are going to have to go through a lengthy trial period to prove that you know what you are doing.
But, we have had motivated, hard working handicappers go through the trial and end up on the site.  The easiest path is writing content.
Writing articles allows us to document your picks. It allows us to check on your reasoning behind your games. It allows us to test your willingness to work hard and consistently produce.
4.  Following the Guidelines
Here are a few of our guidelines that you must agree to if you want to be on our site.
Consistency & Reliability
You must be consistent with your posting times. Customers like getting their information early. This gives them plenty of time to get their action in. This way they don't have to wait around all day for what you are offering.
The only exception is if you post late every day. Then they know that's what they can expect from you.
Customers also expect you to put out picks on a consistent basis.  They understand if there is one game on a certain day you might not like it. No one understands when there are 110 college basketball games on a Saturday and you pass.
This also applies to the number of picks.  There is no hard limit or minimum because some days there are 150 games and others 1.
Again, the customer needs to know what to expect. You can't release 1-3 plays per day and then come at them with 20.
If you are going to take a break then you need to let both your customers and us know.
This also means that if you sell on other sites you must post the same picks everywhere.  You can not sell more, less, or different games.
Packages
We expect you to list your picks in packages to sell individual games.  These are what shows up on our picks pages.  If you only sell time-based subscriptions you will not see much exposure.
No Self-Promotion
This means either directly or indirectly. You can not mention a phone number, email address, URL, or site name.
All customer service questions and replies relay through us.
Record Keeping
We believe in 100% transparency.  We display picks after the games start. We list yesterday's selections. And we keep accurate long term win records.
We do not allow the posting of any records we can not verify.  If you are using any inaccurate numbers we will remove you immediately.
Trial Period
After we vet a handicapper there is still a trial period.
During the trial period you will not be allowed to sell time-based subscriptions. You will only sell packages.
We will monitor your promos, packages, and analysis for spelling and grammar.  We will make sure that you are posting consistently.
This trial period will last around six months. After your trial period you are not allowed to break any of the guidelines. But, you will be allowed to sell packages and receive more exposure.
New Handicapping Sites
We also redesign or build sites from scratch using our system.  This page has more information.