Are you looking for a professional handicapping website to sell picks and make a lot of money doing so?
You can have your very own handicapping site within 48 hours!
You don't need any technical experience with managing websites whatsoever. Our solution is professional and easy to use!
Features/What's Included
Sales Made Easy: Enter picks and create packages and subscriptions to sell all through the SportsCapping.com system.
Customer Management: All sales processing is handled by us. You don't need to worry about setting up a merchant account or dealing with operators who blacklist sports forecasters.
Streamlined Content Management: Easily add articles, FAQ, reviews, etc. to your site. You control all site content.
All sites are search engine optimized so that all of the content on your site will rank in the engines.
Ability to sell picks and earn a % of the profits from any of the handicappers on SportsCapping.com
All picks are monitored and graded by us, a name your visitors can trust. All packages and subscriptions are graded automatically so customers will get bonus subscriptions for losing purchases. If you do not submit a pick on any given day, you don't need to worry about how to handle your active customers, we add the extra time for them automatically.
You become eligible to be listed on the SportsCapping.com network of sites. We only accept handicappers with an extensive history, but by signing up you will have your picks monitored by us for possible inclusion on our most heavily visited sites.
Ability to integrate e-mail marketing services so you can add leads to promote your picks to.
The Bottom Line
One-time $100 setup fee – No monthly/recurring payments
You make 80% of the sales your own service sells on your site
You make 30% of the sale that any other handicapper makes on your site (35% if you are a top 5 affiliate over a 6 month span)
You make 30% of the sales your service sells on any other site on our network (35% if you are a top 10 selling handicapper over a 6 month span)
IMPORTANT: Once you have completed your purchase, please send an e-mail to admin@sportscapping.com letting us know you are ready to get your site started. We will confirm your purchase and ask you some questions about the custom design of your site.
***Please Note*** You will need a registered domain name (for example: www.mysitenameis.com), as well as hosting for your site's files. These two items are your responsibility. If you don't already have these two things, we recommend picking up your domain at your hosting account at Host Gator. Please contact us BEFORE you purchase if you have any questions or concerns about this process.  We can also host your website for a fee as well as register your domain name if you choose.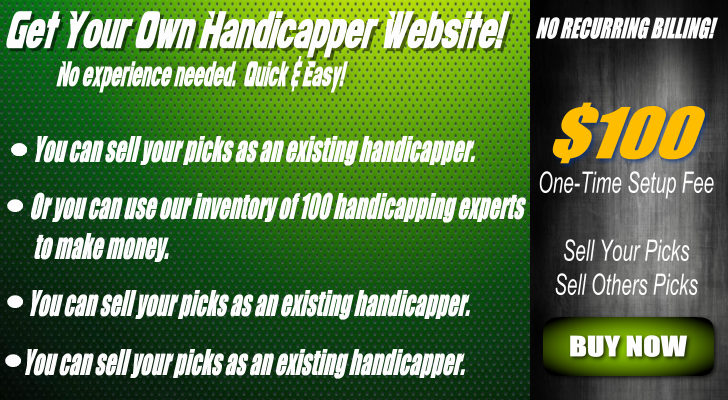 FAQ
What will my site look like?
We will update your logo, colors and add any banners or e-mail subscription boxes you want. Your setup fee includes three hours of custom work from the designer. *Further customization's will be billed out at $100 per hour.  We have a set of 3 themes to choose from and are easily managed through WordPress.
When will my site be ready?
Your site will be ready within two business days after your purchase is complete. Our designer works from 9am ET to 6pm ET Monday-Friday.
Do I have access to customer information?
No. Our privacy policy states that customer information given to SportsCapping.com remains with us. No exceptions. If you do want to build a list of customers that you can contact, you will need to add e-mail marketing to your site to collect their