Promos – www.freddywills.com/week5
On today's podcast we will talk about the biggest oddsmaker errors for week #4 and give you reasons to back 4 teams in our buy low sell high report which has gone 80% ATS the last two weeks.
And if you are Just fading teams in week 4 that were able to cover by 14+ points against the spread in week 3 then you would have gone 11-5 ATS. You would have had to fade teams like Penn State, Clemson, Miss State, Oregon, Kentucky, North Carolina, Ake Forest, and more. If you did this in week 3 you would have gone 6-7 ATS with two teams carrying over this week because they had a bye in week 3 and those went 2-0 ATS. So overall the last two weeks 19-12 ATS fading teams that have are off a 14+ margin of victory over the spread.
I'm not going to blindly back or fade these teams on today's report. If anything this just teaches me discipline whenever I love a side and it just so happens to be a team that just covered the spread by a large margin. I'm going to think twice about it because I always want value in the number. There is usually not a lot of line value in those situations and it's a game you have to pass on unless there is a significant edge.
As a reminder there were several teams to fade that had a bye in week #4 that we want to keep in mind this week. Minnesota (2 weeks in a row), Wisconsin, Iowa State, Northwestern all fade candidates this week. Wisconsin and Northwestern actually face off.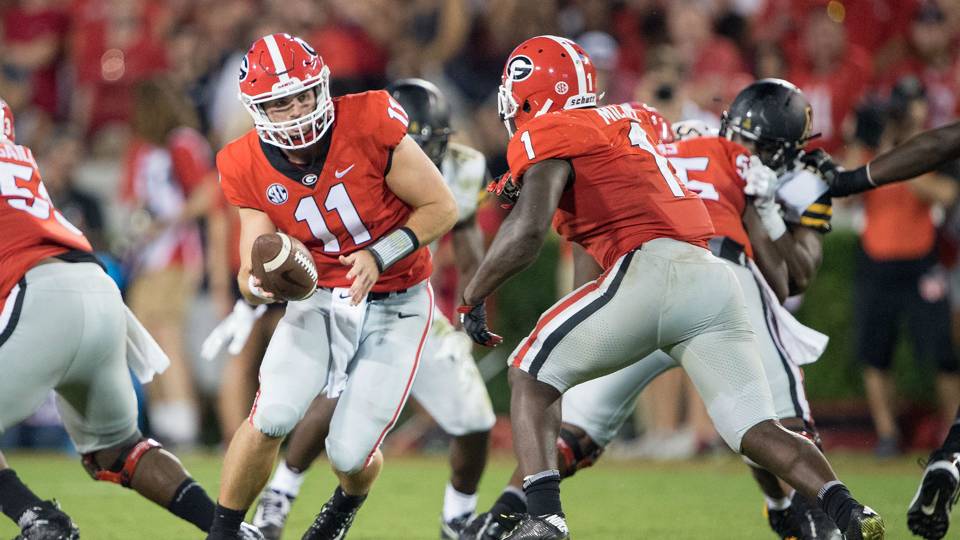 Let's go through the biggest mistakes by vegas for week #4
Georgia covered the spread by 25.5 points against the spread over Miss State. This was our Friday commute podcast pick and it was an onslaught for the second week in a row. Make sure you tune in this Friday for another winner during my 10 minute podcast segment! As a reminder the week before we gave you Clemson, and we are now 16-3-1 ATS in our last 20 freebies! Georgia just started this game too fast for Miss State which didn't have a terrible game rushing for 177 yards and 4.8ypc. Nick Fitzgerald just couldn't get anything going in the passing game and his struggles on the road continue. Week #5 outlook will have Miss State facing Auburn on the road as 9.5 point dogs. I like the value with Miss State this week, but back to back road games in the SEC is a tough proposition. Georgia will be a 7 point road favorite at Tennessee in a tougher game than the line suggests.
South Florida covered the spread by 18 points in an ugly game against Temple. Most impressive was South Florida's defense which held Temple to 85 total yards and -4 yards rushing on 33 carries. Temple turned the ball over 6 times in this game while South Florida turned it over 3 times. South Florida still had a ton of penalties at 9 for 70 yards. I predict South Florida loses at some point. The penalties and inconsistent play on offense is really concerning especially the fact that they look more one dimensional this year as Quintin Flowers receivers don't seem to be on the same page. Week 5 – South Florida is a 24 point road favorite at East Carolina. That might be inflated. Temple with extra time to prepare will host Houston this week as 13.5 point favorites. If it gets above 14 I would be a buyer on Temple. They did hold South Florida's offense to 408 yards and played well despite their offense putting the defense in terrible situations.
Virginia covered the spread by 32.5 points Here is my pick and analysis for that play. This was not that shocking to me as I played Virginia big in this one even grabbed them at +600 in live betting when they went down 7-0. Virginia's QB Kurt Benkert was dropping dimes all over the field for the second week in a row in truly impressive fashion. I'm waiting for the oddsmakers to finally adjust Boise who are now 1-11 ATS in their last 12 home games. Week #5 Take Both teams are on a bye. Good news for Bosie, bad news for Virginia who is 3-1 and has some serious momentum heading into conference play.
Umass covered 24 points over SEC Tennessee as the final score was 17-13. Can Butch Jones just be fired already? I get it was a flat spot after losing to Florida and the way they lost to Florida, but 17-13 with just 319 total yards is just pathetic. Week #5 Tennessee will host Georgia, SEC's newest fan favorite after they crushed Miss State. They are 7 point home dogs and I probably won't get involved considering I'm high on Georgia. I just don't see it as a good spot. Umass will host Ohio as a 6.5 point dog.
NC State covered the spread by 17 points on the road in an outright victory over Florida State. It was the first time Florida State played in weeks and it definitely showed. The biggest key here was that NC State got off to a fast start and Florida State could not control the game with their running game. I was high on NC State and figured this was too many points, but didn't know what to expect of the Florida teams this weekend with the time off. James Blackman, FSU's QB was impressive 22/38, 278 yards 1 TD and ) INT's. FSU's offensive line was no match against NC State's talented front 7. That would be the main take away from this game. Week #5 Outlook Florida State goes on the road as a 7.5 point favorite at Wake Forest as an early teaser candidate. Wake finally lost to Appalachian State, and I think if Florida State can protect Blackman they can be a dangerous team. That will be what I'm looking at this week. NC State hosts Syracuse as a 13 point favorite which seems about right.
Central Florida covered the spread by 32.5 points. A couple things on this one. Many sharps had this number dead wrong from the start. Central Florida should have been the favorite. I also had them as favorites, but again I did not know what to expect after the layoff they had. Central Florida dominated the game against a very over rated Maryland team as I have been saying for weeks on this podcast. I will mention that they are now down to their third string QB, but throwing the ball has never been a strength of this Maryland team. They only managed 1.1 ypc against UCF and were outgained by 231. Unfortunately it looks like I missed the perfect spot to fade Maryland like I had wanted to. Week #5 outlook has corrected the value on Maryland as they are a 12.5 road dog at Minnesota which I would even argue is too much. Meanwhile UCF is making up their game against Memphis from earlier in the year and are 3.5 point favorites.
Miami Ohio covered the spread by 18 points and this was out top play of the week archived analysis here. Statistically speaking this game was closer by yardage, but in reality Miami Ohio was up 28-7 in the second quarter and seemed to put on the breaks in their offense in the second half. Miami Ohio is still my pick to win the MAC East. Although Buffalo and Ohio looked great this past week as well. Week#5 outlook Miami Ohio is a 23 point dog at Notre Dame in what should be an interesting game since Miami plays defense. Central Michigan plays an out of conference game at Boston College as an 8.5 point dog. I just don't think the Chippewas are any good and I won't be looking to back or fade them in this spot.
Alabama probably the most overpriced team in the country went on the road and covered the spread by 39 points and embarrassed Vanderbilt. In my podcast last week I said I would have a strong lean towards Vanderbilt at +18.5 with a low total of 43, but all week I could only find reasons to support Alabama's claim. Alabama finally looked like Alabama and Nick Saban showed why he is brilliant. Talking up Vanderbilt like they were a top 5 team all week and Alabama continues to be a dominating road team. This was every bit as bad as it looked as Alabama had 677 yards to Vanderbilt's 78. Week #5 outlook has Vanderbilt a 10 point dog on the road at Florida which has some good value in my opinion. Alabama will host Ole Miss as a 27.5 point favorite at home.
TCU covered the spread by 22 points over Oklahoma State and had to be a big winner for the sportsbooks. I have ripped Kenny Hill on this podcast many times especially for his play on the road and it looks like he just got his team a big win, but when you look at it he did not play well. Just 228 yards passing 1 TD and 1 INT. TCU was extremely lucky that Oklahoma State had 4 turnovers, and two key injuries to their offensive line. Yet they still outgained TCU. It's hard to win when you are -3 in turnover margin. Week #5 outlook Oklahoma State is an 11 point favorite at Texas Tech who won as a road dog this past week, and TCU is off until next week's match up with West Virginia which should be a fun one. I'm still looking for opportunities to fade this TCU team.
Western Illinois covered the spread by 45 over Coastal Carolina in a 52-10 victory. Still not sure what to do with these newly integrated FBS teams. They are now a 11 point dog at Louisiana Monroe.
Georgia State covered their spread at Charlotte by 29 points.
Baylor covered the spread against Oklahoma by 20 points and nearly had a shot to tie the game at the end. I have been saying all along that Baylor will be a cash maker this year. While I didn't bet them last weekend it was evident that Matt Rhule is starting show improvement already. Now the big question is does the market catch up? And am I concerned with Oklahoma moving forward? I think Oklahoma was just taking this team lightly and Baylor wanted to prove that they are not the laughing stock of college football. Oklahoma still controlled the game with 8.6 ypc and allowing just 1.7 and Baker Mayfield still did whatever he wanted 13 completions for 283 yards and 3 TD's. I'm not at all concerned with Oklahoma moving forward. Zach Smith has a very talented group of recievers that are burners. It's not what Matt Rhule likes to do but I think they just kind of let it go for this game. Week #5 outlook I think it will be back to them getting their ass beat this week as they go on the road to face Kansas State off a bye who are probably not happy that they lost that game at Vanderbilt last week. Oklahoma meanwhile will get their bye.
SMU covered over Arkansas State by 20 points against the spread. This was a very impressive performance that had SMU dominating time of possession. They were +2 in turnover margin and half of their TD's came from 35+ yards. When SMU runs into a team that does not give up big plays they could be in trouble, because their defense is still not where it needs to be to compete. Week #5 outlook, they get Uconn at home as 18 point favorites. Nobody is going to touch Uconn at this point. Arkansas State is on a bye and I'm more interested to see what kind of value we can get on them moving forward.
Auburn got back on track and covered over Missouri, the SEC's punching bag by 18.5 points. Auburn deserved to win the game, but maybe not by the score of 51-14. They were held under 500 total yards and benefited from +4 TO margin. Week #5 outlook they will play host to Miss State who just got waxed by Georgia on the road. This is a tough back to back situation for Miss State going into another week against a very good defense. I expect the under to hold some value. Georgia was able to run on Miss State and I think Auburn will do the same slowing the game down. Georgia did score 31 points, but after they sustained the
Texas San Antonio covered by 16.5 points over Texas State. Texas State hung in there last week against App State who just barely lost to Wake Forest, but this past week they just did not seem to have anything left in the tank for UTSA. UTSA were +472 yards in this game and averaged 7.9 ypc and allowed 1.2 ypc. San Antonio is a good team and a possible threat in the Conference USA. They have a bye this week before facing Southern Miss at home. For Texas State, they go on the road as a 16.5 point dog to Wyoming.
SIU covered over Memphis by 16.5 points against the spread. A week after beating UCLA in a shootout they fail to cover against an FCS foe by more than two TD's. Memphis was just +71 yards in this game which was a really surprising final. Week 5 outlook, clearly looking ahead to their match up with Central Florida in my opinion. This was a typical sandwich game. UCF beat Maryland this past week, and I liked Memphis before the game was canceled a couple weeks ago. I may like them again here.
Notre Dame covered against Michigan State by 16.5 points. I was leaning towards Michigan State in this game, but the line came down to far and I thought the value shifted to a Notre Dame team seeking revenge. Notre Dame benefited from +3 in TO margin and they dominated in the red zone. Michigan State actually got into Notre Dame's territory more times but were held to 2.83 points per trip. This is a misleading final score. Week 5 outlook provides plenty of value to fade Notre Dame and look to back Michigan State moving forward. Notre Dame is a huge favorite at home to a good defensive MAC team in Miami Ohio. Question I'll be looking to answer this week is whether or not they can stop Notre Dame's rushing game. Michigan State will host Iowa as a 3.5 point favorite which surprised me a little. Iowa just off a heart breaker at the buzzer are not a good road team and it's a good situation to fade them and back Michigan State.
Washington covered by 16 points over Colorado. I mentioned on last weeks podcast that Colorado was super lucky at this point in the season as their defense was playing far above what is actually possible. 700+ yards per 7 points they were allowing. The only reason I did not play this game was I felt like Colorado might have some revenge for the way they played in the PAC 12 Championship game, but they could not stop the run in this game and Washington's defense had 3 interceptions. Those were the main differences overall. Week 5 outlook has Washington going on the road to face Oregon State as 27 point favorites. Oregon State is desperate to play better, but Washington has no reason to look ahead with Cal on deck. For Colorado they will go on the road to face UCLA and I think it offers a good backing opportunity as there is a major coaching disadvantage there.
Arizona State covered by 16.5 points over Oregon. I know a lot of sharps that made money on this game. Arizona State deserved to win this game despite their inability to run the ball. Oregon definitely looks stronger up front. I was mostly impressed with Arizona State's ability to hold Justin Herbert to 54.3% completion ratio and under 300 yards passing. Week #5 outlook I don't think much has changed with either program. Arizona State is tough at home and the oddsmakers are agreeing because they area 16 point road dog at Stanford.
Speaking of Stanford they just covered by 17.5 points college football against the spread over UCLA in a 58-34 victory. I leaned towards Stanford, but was afraid of backing a Stanford team that has looked awful on defense and continued to look awful on defense against UCLA. I really thought a back door cover with Josh Rosen chucking the ball around was a definite possibility. Stanford was outgained in this one by 42 yards, but benefited from red zone play and +3 turnover margin. This was a 23-20 game in the 3rd quarter, but I think coaching just prevailed in the end. Week 5 outlook Stanford doesn't deserve to be a 14+ TD favorite against anyone. That's a game I definitely don't want to get involved in. UCLA will host Colorado. Two teams off big losses. Colorado won this game last year 20-10 at home.
BUY LOW SELL HIGH SEGMENT:
Let's take a look at who is facing off with each other this week from opposite sides. This has gone 4-1 ATS the last two weeks. Opposites facing off in week #4 were recommending BC +35 over Clemson, App State + 6 over Wake Forest, and Old Dominion +28.5. Everyone but Old Dominion covered so this method is now 4-1 ATS the last two weeks. Here is week #5's list
 Memphis who missed covering the spread over an FCS foe by 16.5 points will go on the road to face UCF who just went up to Maryland and dominated covering the spread by 32.5 points. Back Memphis
 Auburn covered by 18.5 face off against Miss State who missed by 25.5. Back Miss State +9.5
 Maryland missed covering the spread by 32.5 points and go on the road to face Minnesota who is off a bye, and back to back 14+ point covers. Back Maryland
 Tennesssee missed by 24 points against the spread and will stay at home to face Georgia as a 7 point dog. Georgia just got done covering by 25.5 points over Miss State. Back Tennesse.
Whether I play any of these I don't know, but it certainly makes me think twice before backing any of the teams I'm looking to fade. Here are some others in terms of teams that have been on this list of covering and most likely will get too much credit.
Teams on this list multiple times for covering the spread 14+ – Taking away week 1
 Minnesota 2x
 Miss State 2x
 TCU 2x
 UTSA 2x
 Wake Forest 2x
Wake & Miss State losing this past weekend. Minnesota, UTSA, and TCU on the strong side of teams you may want to fade.
Teams on the list multiple times for not covering the spread 14+