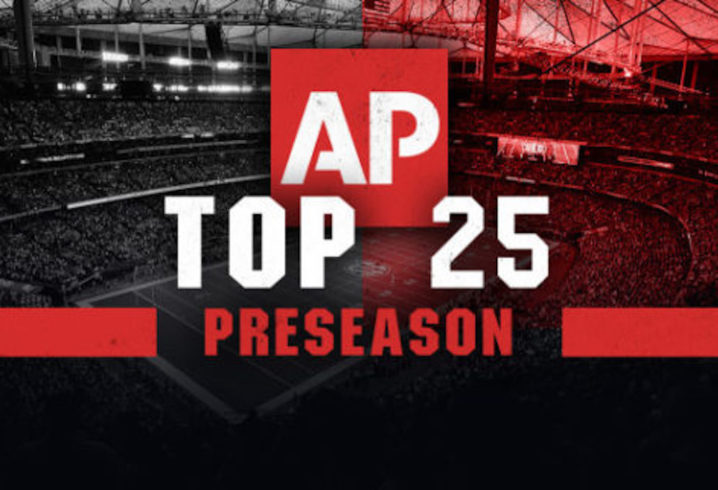 Here is a look at the top ten college football teams according to pre-season AP poll:
The idea of fading these team's because we are not getting good value in their numbers, because most people are going to back them is a good idea. You will definitely get the value side by fading these teams, but it may not always pan out and this is just part of the recipe. I dug a little deeper and went back over the last six years to see how the pre-season top 10 did overall.
Season ATS
2012 – 56-71 ATS (4 out of 10 had winning ATS records)
2013 – 58-62 ATS (4 out of 10 had winning ATS records)
2014 – 64-71 ATS (4 out of 10 had winning ATS records)
2015 – 61-72 ATS (4 out of 10 had winning ATS records)
2016 – 66-63 ATS (4 out of 10 had winning ATS records)
2017 – 70-61 ATS (7 out of 10 had winning ATS records)
Overall record was 375-400 ATS which is not a crazy advantage at 48.39%, actually it's very close to the break even win % you need to show a profit if you blindly faded all of these teams. Again, this is just a tool to get us to increase our win % and start looking at the right teams. Ironically until 2017, 60% of the teams on the list had a losing win % ATS. Take out teams who do well ATS because of coaching or ability to re-load. For instance I would not blindly fade coaches like Nick Saban, Urban Meyer, or Dabo Swinney who had winning records ATS despite being in the top 10 in the AP poll. Those 3 coaches had a combined record of 104-89 ATS. Suddenly we have a 54% ATS record by fading the other teams. 54% over the long haul will make you rich, but I'm not satisfied and have never been satisfied by 54%. So I dug even deeper.
Home Favorites ATS
174-202 ATS which is roughly a 54% ATS mark if you fade them.
Away Favorites ATS
103-112 ATS which is too close to 50%.
Conference ATS – 242-265 ATS
Non-Conference – 126-139 ATS
Following SU Win – 282-297 ATS
Following SU Loss – 68-79 ATS
– This makes sense as teams typically had the hangover effect after losing a game. Until last year it was felt that your season was over and it was hard to get back up to dominate your next opponent. I will definitely be looking at this in 2018.
1st 3 Games ATS
If you blindly fade the pre-season top 10 in their first 3 games you would hit 56% ATS. Early in the season is the best time to fade these teams, because once they lose or once Vegas has better numbers on them the line is sharper. 5 of the last 6 seasons had a losing record, and when we take out last years 18-11 ATS anomaly the stats are overwhelming with a record of 59-86 ATS for a 59.3% ATS record just for fading the top 10 in their first 3 games. The record was even better when they were playing a non power 5 school.
Overall out of a total of 60 teams only 24 had a winning record ATS in their first 3 games of the season. Take out last year's anomaly and just 18 out of 50 teams had a winning record. Again, we could look at the teams playing non-power 5 schools and those with coaches who are either inexperienced or not very good ATS early in the season or with extra time to prepare. There are a lot factors to consider, but it gives us a good idea of which teams in 2018 to go after.
1st 3 Games vs. POWER 5 ATS – 80-90 ATS
This still stated to fade these pre-season top 10 teams, but I would hold off on that.
2018 Teams & Betting Value:
#1 Alabama –
Ranks the top with 42 votes and they are a team we don't look to fade often. Overall they have been in the pre-season top 10 each of the last 6 years and have had a losing record ATS only once and that is with probably the most inflated lines. There are two scenarios where I would look to maybe fade Alabama. Scenario 1 – Following a loss Alabama is 1-5 ATS since 2011 following a loss. Scenario 2 – When they face a non-power 5 school early specifically after a big opening win. They have gone 1-6-1 ATS since 2012 when facing a non power 5 school the frist 3 weeks of the season. Overall since 2012 they have gone 5-12 ATS vs. non power 5 schools and a couple of those wins were by 1 point where if you got the right line you'd be 14-3 ATS fading Alabama.
2018 opportunities:
Arkansas State + the points in week #2, and Citadel + the points the week before the Iron Bowl on November 17th. Also fade Alabama after a straight up loss.
#2 Clemson –
They have been part of the top 10 pre season poll three times and every time they have come up with a winning record ATS. There really is not a situation that I would look to fade this Clemson team under Dabo Swinney. THey have been my favorite team to back over the last 3 years and I would be shocked to not see them playing in the college football playoff at the end. They open up against Furman. The last 3 times they opened up against a non-power 5 school they covered the spread. With 15 returning starters and a dominant defensive line that is deep with talent I would not touch this team in 2018.
#3 Georgia –
Kirby Smart is a very young coach and they are flush with talent with the #1 recruiting class coming in. There is value to be had fading Georgia this season in my opinion. They played in the National Championship game and there is clearly a lot of hype for this team coming into the year, but only 13 returning starters. They lose 2 of the best RB's their program has ever seen, and their best defender. If they cover in week 1 vs. Austin Peay I could be fading them in week #2 against South Carolina where they will be a 2 TD favorite. You very well could fade Georgia the first 3 weeks and I think you'd come out with a 2-1 ATS record.
#4 Wisconsin –
Is a very tough team to fade ATS. They have gone 19-8 ATS The last two years and are good in just about every situation and start the season with 3 easy home games. All three of those spreads will be gigantic, but I just have a hard time fading a disciplined team with a dominant defense. Even with only 4 returning starters on the defense I just can't look to fade Wisconsin who people generally don't feel like they deserve to be in the top 10. Public will look to fade them before they back them and that's why they have gone 19-8 ATS the last two seasons.
#5 Ohio State
– With things still up in the air on Urban Meyer and a lot of distractions following the program right now it's hard to come up with a strategy. Generally Urban has been very good in spots ATS. Unlike Alabama he's actually gone 4-2 ATS following a SU loss since 2012. They have actually gone 10-5 ATS in their first 3 games when they are in the pre-season top 10 which they have been in every single season since 2013. If anything you are getting value in their opening line vs. Oregon State who is going to have a terrible team this year, because of the Urban Meyer situation. The line has dropped from 38.5 to 36 in some spots and I would jump all over this # if it gets to 35. They really don't have a big game on deck and the players will probably want to come out with a big win to support their head coach.
#6 Washington –
Another great coach on the list in Chris Peterson and I would hesitate to fade the man if I am being completely honest. There is a reason why the pre-season top 10 did so well last year ATS. There were a lot of good coaches on the list. They open up against Auburn who is #9 on the list so we sort of have to throw that game out. Washington under Petersen has gone 9-5 ATS following a SU loss and they have been around .500 but never had a losing record ATS under Petersen. I'll be digging deeper in their week 1 matchup with Auburn. Overall WAshington has 17 returning starters and are the favorites to get back to a bowl game. Petersen has always been a great coach with extra time to prepare, but as a dog at Washington he's gone just 7-9 ATS.
#7 Oklahoma
– Lincoln Riley heads into his second year as HC at Oklahoma and returns just 12 starters and he loses Baker Mayfield, but they are ranked in the pre-season top 10. Kyler Murray is supposed to step in for Baker and this team is not supposed to miss a beat. I'm always hesitant with a QB that has to transfer after being a big time recruit out of high school. Also Murray gets looks from major league baseball scouts so it's unsure on where his concentration really is and when you play for a big time school like Oklahoma it has to be there.
2018 Opportunities: I think there will be plenty of opportunities to fade this team in 2018. Remember their defense was awful last year. They open up against a very good offense in Florida Atlantic as 21 point home favorites. I have a lean towards Lane Kiffin's team in week 1 as he will likely want to prove something right from the start and we have sean Oklahoma lose in that type of a game early in the season in 2016 against Houston. They play UCLA the next week going through transition where I think they will get back on top, but week 3 they'll have revenge at Iowa state. I feel if you fade this team all season you are looking at a profitable year ATS.
#8 Miami:
They have the swag, but still finished 5-8 ATS last year. I'm a big fan of Mark Richt and I'd like to go back to see how well he's done over his career in different situations. I will say under Richt MIami is 1-5 ATS following a SU loss. Which makes a lot of sense. It could get ugly right away as they open up on neutral field against LSU on September 2nd, but they are a 3 point favorite surprisingly. LSU has other issues and unknowns so that game would be a pass for me, but I would look to fade Miami at Toledo in week #3 where Toledo is off a bye.
#9 Auburn:
Gus Malzahn has had some really good seasons here, but some really bad ones. The really bad ones are 4-9 ATS, 3-10 ATS, and last year they were 5-7-2 ATS. This team has been unable to regroup following a SU loss they have gone 6-12 ATS in the 5 years that Malzahn ahs coached. I'm not sure what direction I'm going in week 1 vs. Washington, but if they lose I'd look to fade them in week #2. They also have a key game in week #3 vs. LSU where they will look to avenge last years 23-27 loss. Overall I'm not a big fan of Malzahn who is really inconsistent and only returns 13 guys here. They have a stud at QB in Jarret Stidham and di beat Alabama in the Iron Bowl last year.
#10 Penn State:
Penn State lost their star RB Saquan Barkley along with 8 starters on defense. I like Trace McSorley at QB but this team is going to have a hard time in my opinion with the loss of their offensive coordinator Joe Morehead. They open up with App State which is a good spot to fade them. Remember without Morehead in the mix Penn State was 10-16 ATS in Franklin's first two years here and since then they went 19-8 ATS. With Pitt on deck in a big road game I would think App State is a team they overlook as they are 23 point favorites. This team is also 3-9 ATS following a SU loss under Franklin so look for that situation. Worth mentioning that the #10 ranked team has gone 31-40 ATS on the season, and