This is part 2 of my top 10 surpirse teams out of the power 5 conferences.   Top 10 Surprise Teams – College Football Power 5 Conference Part 1.   We get things started with the Big 12 conference and…
5.) TCU Horned Frogs (Vegas win total odds O/U 8 wins)
Nobody is expecting much out of this team in 2016 with just 48% of their production returning which includes just 29% on offense.  I have had my doubts as well, but this defense should be the best in the Big 12 and Gary Patterson is one of the best coaches in the nation.  This squad is still experienced and loaded with upside and this team could very well finish in the Top 10.  They lose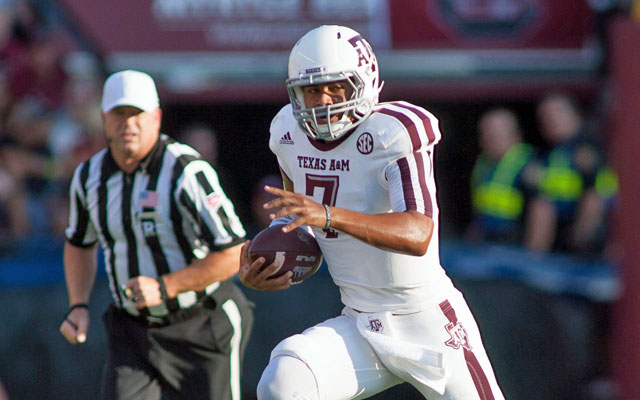 Trevone Boykin, but gain a 4 star transfer in Kenny Hill.
TCU was very unlucky last year when you look at their losses.  They were -4 TO's in their 20 point loss to Oklahoma State, a team they were certainly better than, and they lost their star QB And WR Doctson missed the game at Oklahoma, a game in which they nearly stole but fell short on a two point conversion.  I'm predicting that Hill will thrive in this offense and the defense will be better than it was a year ago when they were not in the top 100 in returning experience on defense.  This year they rank 30th.
Why are they a surprise team? This team has a shot at the college football playoff and their schedule looks right.  They get Arkansas out of the SEC to impress and they get Oklahoma at home who they will likely be a TD under dog against.  Win those two games and it sets up well for this team to be in the top 10 at the end of the season.  The experienced defense is going to peak my interest on the betting side, because I love backing teams with solid defenses and this year's team will have just that.
4.) Ole Miss Rebels (Vegas win total odds O/U 8.5 wins)
Ole Miss has a huge edge at QB over LSU & Alabama in Chad Kelly.  Kelly returns after throwing for over 4,000 yards, 31 TD's, and just 13 interceptions in the toughest conference in football.  He led the Rebels to a victory at Alabama and if it weren't for Arkansas miracle play on a 4th & 25 to beat them in OT they would have played in the SEC Championship game.  Here is that 4th & 25 video courtesy of Campus Insiders:
Ole Miss however is not being picked to do much in any of the pre-season polls, because they return just 10 starters, but I do think there is a possibility for them to make some noise and be a team of value in 2016. They open up as 4 point under dogs against Florida State on a neutral field to close out week 1 of the college football season.  They get Alabama at home and have to travel on the road to play LSU.  let's see if the all the recruiting Hugh Freeze has done can pay off.
3.) Houston Cougars (Vegas win total odds O/U 9.5 wins)
The big key is that they return a senior QB in Greg Ward Jr. who had 21 rushing TD's last year with over 1200 yards to go along with his 17 passing TD's with just 6 interceptions.  This team will return 72% of it's production from a year ago.  They have an excellent coach in Tom Herman who is one of my favorites.  This is a team that finished in the top 10 and lost just one game under extenuating circumstances traveling up to Uconn without Ward was a big deal.  However, this team quickly re-grouped and finished off their season on a high note by beating Florida State in their bowl game by 2 TD's.  A Florida State team that many are picking to get into the college football playoff.
Why they are a surprise team?  They start the year off against Oklahoma ranked 3rd in the pre-season poll.  If Houston knocks them out in Houston they can win out and possibly end up as part of the 4 team playoff.  They are 10 point under dogs, but play in Houston and have had all off season to prepare for the game.  I expect it to be a battle despite Houston returning such few starters on the defensive side of the ball.
2.)  Miami Hurricanes (Vegas win total odds O/U 6.5 wins)
We mentioned how much we liked Miami this season in our  Top 10 College Football Head Coach Moves 2016 podcast.  Miami is getting one of the best and most consistent coaches in the nation in Mark Richt and Rich comes in at the right time in my opinion.  They return 70% of their production from a year ago including one of the best players in the country in Brad Kaaya at QB with a 4 star recruits all over the skill position and all 5 starters along the offensive line.
This team was close to going 9-3 a year ago and have a team that has a lot of depth at each position.  This team could really shock some people this year and can be a dark horse to challenge Clemson and Florida State if they get to the ACC Championship game which is completely possible since they host North Carolina the favorites to win the division.  However, there are some good teams in the ACC I have mentioned multiple times how deep this league is with Virginia Tech also looking to be improved under Justin Fuente, but the talent Miami has is undeniable.  If I liked to bet futures I would lay a little on Miami to win the national championship at 75/1 and then try to hedge it late in the season.  Nonetheless this team will be favored in 8 or 9 of their 12 games and I expect them to go 9-3 during the regular season with a decent shot at 10 wins on the season.. which is something Mark Richt is certainly used to.
1.) Nebraska Cornhuskers (Vegas win total odds O/U 8.5 wins)
This is another team full of talent and has a senior QB in Tommy Armstrong.  I like Armstrong, because he can actually pass the ball unlike so many other Nebraska alleged "dual threat" QB's.  This is certainly a college football team with early season value as we wrote and talked about on our 4th podcast of the season.  This was a team we backed pretty hard down the stretch and in my opinion are a dark horse to get into the college football playoff.  They are one of the only teams in the Big Ten not afraid to chuck the ball around the yard under  Mike Riley and Armstrong has a big enough arm.  This is a team that lost 5 games in the final seconds last year and were essentially 5 plays away from being 11-2.  They were one of the more unlucky teams in 2015 and I think that builds some serious character for the returners.
Nebraska is one of the more experienced teams returning in 2016 with 78% of their production on offense and 85% on defense.  They come in at 60/1 to win the national championship which is not crazy when you consider the Big Ten Champion most certainly gets a spot in the college football playoff.  Overall I don' think they have the talent level to get there, but they could be this year's Iowa, and they are much more explosive than that Iowa offense and have many 4 star receivers led by senior Jordan Westerkamp.  The schedule sets up nicely as they will be under dogs only two or three times all season.  The big game comes week 3 against Oregon and they finish the season going on the road to Wisconsin, Ohio State and Iowa.  They miss Michigan and Michigan State.